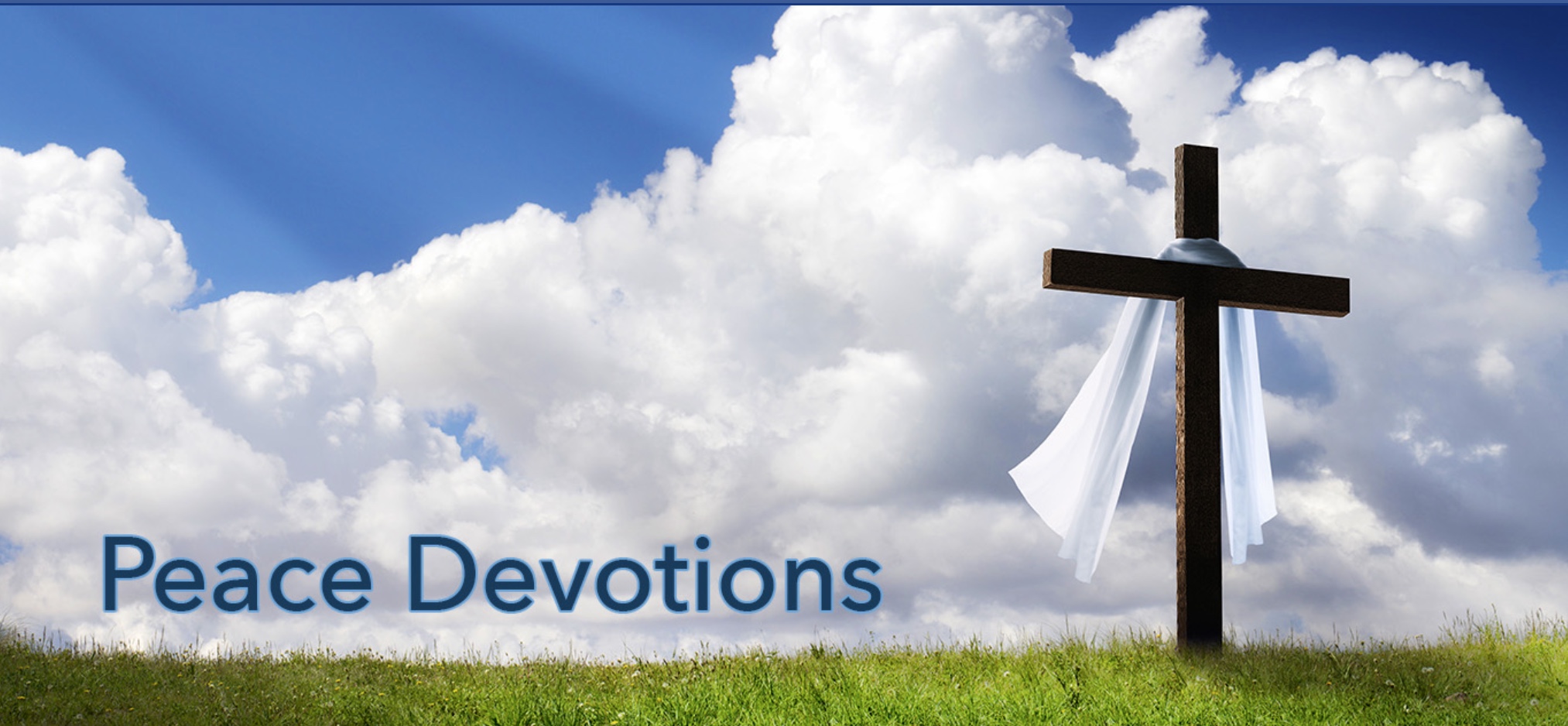 Introduction
Peace Devotions are short video devotions
created for distribution on Facebook and other social media platforms. The project has been blessed, though we have also faced some challenges.
My plan here is to start by giving a short background on Peace Devotions and discuss our initial goals and expectations. Next, I'll dive into the production process and talk about some of the blessings and challenges we've faced over the last year. Finally, I plan to share a few things we've learned and consider our goals for the future of the project.
For me, this is an opportunity to both share and learn. I'll be posing questions throughout this article – questions about choices we've made or options we've discussed. I invite you to chime in, ask your own questions, or offer feedback on any part of the process.
Planning
The initial planning for Peace Devotions began in the summer of 2017. We (that is, Peace Lutheran Church, in North Mankato, Minnesota) found ourselves blessed with the resources to attempt this project. We had the talent, equipment, and a little bit of initial funding.
We filmed and edited a quick pilot devotion and used that to guide our initial requirements. The list was fairly simple: The Gospel must predominate in every devotion. This Gospel imperative is essential to our mission. Next, each video needs an analogy, a quick story to grab audience attention. Ideally each video would have photos or videos depicting the analogy, aka b-roll. And finally, the videos have to be short. Under three minutes is the sweet spot for us. It's easy to lament the short attention span of people browsing Facebook, but our test devotion was only five minutes long and it was difficult to watch the whole thing.
Questions: How important is visual imagery when watching social media videos? How important is video length when watching video on social media?
Video viewing on the internet continues to skyrocket, yet many people are watching video on their phones with the sound off. One of our secondary requirements was that each video needed to have subtitles or closed captioning. Having the video text also allows us to post text transcripts with each video. This makes the videos easily searchable for content and it means we can send out an email version of the video in text form each day too. At some point we'd like to provide captioning in multiple languages.
Questions: How do you typically watch videos? With the volume off? With subtitles? For devotional material, do you prefer audio, video, or written word? Why?
One conscious choice we made at the start was that we didn't want these devotions to "feel needy." Nearly every video online today ends with "like, comment, and subscribe!" (People joke that "like and subscribe" is now how you say "goodbye.") Podcasts are constantly reminding listeners to "support me on Patreon." We wanted our videos to feel different.
As creators for these devotions, we didn't want the message to be "give to help us create" but rather "your Creator has given himself for you."
Questions: It's 2018, is everyone online familiar with the concept of liking, following, and subscribing? Is it important to remind viewers to "like and subscribe?" By not calling for action, do we risk not growing our subscriber base? Should growing the follower base be a priority?
Production
Initially we started by producing five videos a week, one each weekday. That is still our goal, but when our initial funding ran out we scaled back to two videos a week, then one video a week. At the time of this writing, we have been granted six months of funding to create two videos per week.
Producing five videos a week is very ambitious, but it also provides many benefits. First, social media sites tend to promote content creators when they have regular content coming out. Posting new content daily helps keep us in the quickly changing newsfeeds.
A second benefit is that this enables producers to make this their primary focus. For the first six months of this project, producing Peace Devotions was my full-time job. As we've scaled back, I've needed to take on other jobs and Peace Devotions, in turn, receives less attention.
Questions: In your opinion, how many videos per week is ideal? As an audience, how do you structure your daily routine around your favorite content?
One of the blessings which allowed us to attempt such an ambitious project is that we had easy access to high end video equipment and people who know how to use it. Through Bethany Lutheran College and local video producers we've been able to borrow the equipment necessary to film the devotions. The production crew has also generously donated their time to the project so far. Our only real expense is post-production.
We typically film with two or three Canon DSLR cameras and usually use a separate Sony camera just for audio. The main camera is mounted on a curved motorized slider which is slowly moved back and forth during the filming. We capture audio with Sony lavalier microphones, but also use shotgun mics, especially when filming out of doors.
At first, we scheduled filming days every two weeks, but as we've been able to get more pastors involved, we've been able to film once every three weeks or once a month. Each Pastor typically comes with five devotions planned to film and we rotate through them, filming one Pastor while the others prep for their next devotion. Occasionally we'll do one off the cuff if we have a good idea.
Post-production is done using the Adobe Create Cloud suite. Cameras are imported into Premiere, synced, and placed into multi-camera clips. Audio is extracted and cleaned up. Devotions are edited, switching between cameras to provide variety and cover up pauses or restarts. B-roll, stock footage, and stock imagery is added. Sometimes I film this myself if I can't find quite what I'm looking for. Text from the Bible passages is inserted or overlaid. Music is added, and color is corrected.
Completed videos need closed-captioning and then can be scheduled for posting. I like to schedule the posts for the coming week on Friday. When possible, I try to schedule two weeks in advance. We currently post videos to a handful of locations. Our Facebook page is our original intended audience. We also post to YouTube and to our blog, PeaceDevotions.com. The website will automatically send out tweets (to Twitter) when new devotions are published. We also post an audio only podcast version of each devotion which can be found on virtually every podcast service. Finally, we send out email versions of the devotion to those on our mailing list.
We developed a skill for the Amazon Echo so Peace Devotions can be added to a users' daily Flash Briefing. The podcast version also allows iPhone or HomePod owners to ask Siri to "Play Peace Devotions Audio" and have the latest episode begin playing immediately.
Questions: Do you close-caption videos? If so, do you have tips and tricks to share? What social media sites do you prefer for posting content? Which other services would you like to see Peace Devotions on? What social media trends have you noticed over the last six months?
Each video is a little bit different, though it usually takes three to five hours to edit a video from beginning to end. Posting and scheduling all the different social media posts can add another 30 to 60 minutes to the process.
About a month into our project, we decided that our videos should be square (1x1), rather than the classic 16x9 size of standard HD video. Many people watch content on their phones, but don't tip their phone sideways when watching videos. Making our videos square means the videos are larger when in portrait mode.
Questions: Do you use square or vertical video? How vital is it to adapt to trend changes like this across technology?
The Future
Question: Who is the target audience for Peace Devotions?
This is a question we've asked ourselves several times. On one hand, these videos are meant for all believers as a daily reminder of God's love, forgiveness, and peace. On the other hand, we're posting these publicly on the internet for everyone. These short two-minute videos might be someone's only interaction with a church. It might be the only time someone hears about Jesus. Which leads to another question:
Questions: What level of content should these videos contain? Should we use words like "justification," "sanctification," or other "church words?"
We did a few videos on parts of the church service. Personally, I loved the series, walking through each section, learning more about it. View count on those devotions tended to be lower than view counts on other videos. Was that due to Facebook's algorithm or the chosen subject matter? It's hard to be sure.
On the whole, we've done very little paid promotion for Peace Devotions on Facebook. We've boosted our page when we first made it and we've boosted a couple of posts, but overall, we've tried to keep our reach organic.
Questions: Have you had success in boosting posts on Facebook? Is there a danger in boosting posts too much? Is there a danger in not boosting your posts enough? As church bodies, what demographics should we be targeting when we boost our posts?
Ultimately, a project like Peace Devotions relies on funding. Without the ability to pay for production and post-production, this level of creation is just not sustainable. Ideally, we'd like to be able to give a small "usage fee" to the entities providing cameras and equipment. Cameras wear down and break on occasion and we'd rather not that Peace Devotions became an extra burden on those providing high end production gear. And while one might say it's part of their pastoral duties, wouldn't it be great to give the pastors a little gift for the time they've put into this? (At the time of this writing they've provided us with over seven hours of finished devotional content.)
As we look to the future, we have funding for the next few months, possibly even for the next year, but then what?
Questions: Can a video ministry be sustained by private donors and grants? Is it important for viewers to know where funding comes from? If funding goes away, can a ministry such as this survive on crowd-funding or audience donations? How do we ask for money without "sounding needy," or without adding our voices to the common call for donations, pledges, and financial commitments?
There are other concerns too. What happens if (when?) Facebook decides our content is "fake" or doesn't belong on their platform? What happens if we get banned from YouTube?
Faced with the potential for future problems, I'm reminded of what my friend said as we began our devotional video series. "Let God worry about the funding." It's important with any ministry, to remember that God is the one who makes it all possible. He will bless our efforts as he sees fit. We only do what we can to "gather disciples from all nations" and trust that he will be with us "always until the end of the age."
Below are the various ways you can access Peace Devotions.
"Like and Subscribe"
To Like and Follow on Facebook go to https://facebook.com/PeaceDevotions/ and click the "Like" button. If you'd like to make sure you see every new devotion, be sure to set your notification settings for the page to "See First." (This can be done with the "Following" button.)
If you'd like Peace Devotions in your inbox, go to https://peacedevotions.com/email and fill out the short contact form. The next time a devotion goes live, you'll get an email with the devotion text and a link to YouTube.
To watch on YouTube, visit https://peacedevotions.com/YouTube and click subscribe. Note: YouTube doesn't always notify subscribers about new videos.
If you'd rather read on our blog you can find our RSS feed at https://peacedevotions.com/feed/ or follow our Twitter account by visiting https://twitter.com/PeaceDevotions
For the audio podcast, visit https://peacedevotions.com/podcast and you'll be directed to our podcast homepage. Click the button that says: "Listen on your favorite app" and then click the link to your podcast player of choice. If your app of choice isn't listed, you should be able to use the page url https://anchor.fm/peace-devotions to add the podcast to your player.
Alternatively, if you have an Amazon Echo you can add Peace Devotions to your Flash Briefing. (Flash briefings are activated with "Alexa, what's new?" and can be configured with the Alexa app on mobile.)
On Apple devices you can say "Hey Siri, play the podcast Peace Devotions Audio" and Siri will start playing the latest devotion. You will need the Apple podcast player app, and some patience with careful pronunciation, but it works.
If you have a Google Home you can say "Hey Google, play the podcast Peace Devotions Audio" and Google will start playing the latest devotion.
Summary
Facebook: https://facebook.com/PeaceDevotions (Click Like. Click Follow. Choose "See First.")
Email: https://PeaceDevotions.com/email (Sign up form)
YouTube: https://PeaceDevotions.com/YouTube (Subscribe)
RSS: https://PeaceDevotions.com/RSS
Podcast: https://PeaceDevotions.com/podcast
Twitter: https://twitter.com/PeaceDevotions (Follow)
"Hey Siri, play the podcast Peace Devotions Audio."
"Hey Google, play the podcast Peace Devotions Audio."
---
Translate this page into your language
Return to original language with "show original" button at top left.