For a class project, my friend Daniel and I conducted a sweepstakes on social media for The Christ in Media Institute (CMI) called #ShareTheSavior. We asked students at two schools, Wisconsin Lutheran College and Wisconsin Lutheran High School, to use their most-used social medium to post their favorite Bible verse, and in doing so tag The Christ in Media Institute. To encourage participation, we offered all participants a chance in a drawing for a $25 gift card. The instructions for participating are on this poster.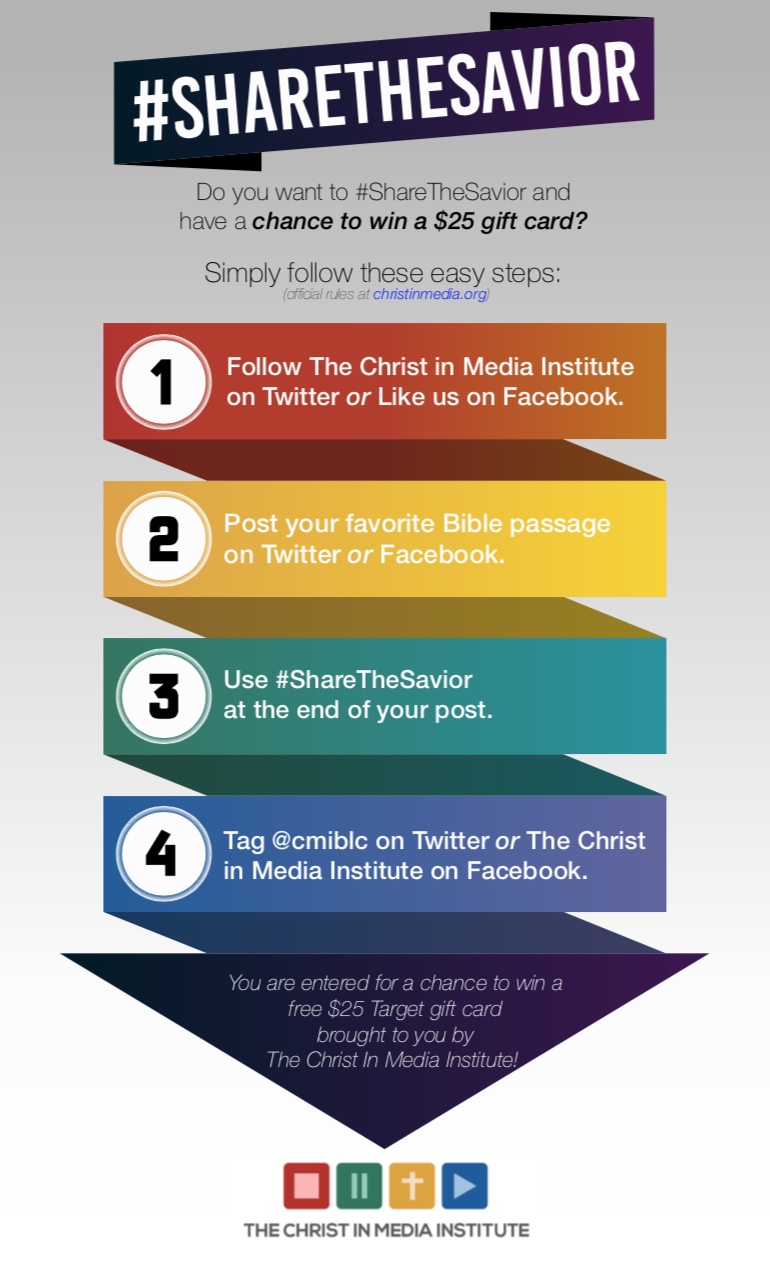 The project ran from February of our fall semester to May 4th, the end of spring semester. One of the most important days was April 1st; this day we created the poster, and that was the start of the social media campaign. After editing the poster we used it in an introductory post to #ShareTheSavior. The following Thursday, April 4th, we began to distribute the posters.
The main purpose of this project was to share the saving message of the gospel while also making more students aware of The Christ in Media Institute and its mission. To accomplish this, we made it simple for students to participate in our campaign, and by participating, we would be naturally increasing awareness of @CMIBLC's because each post was to include a tag to the organization's web presence. We thought a gift card reward was appropriate because students would more likely participate with a chance to win and then publicize the campaign to other students and their friends.
Our planned time schedule seemed perfect for this type of campaign. We had roughly three months in which to reflect the goals, mission, and overall purpose of The Christ in Media Institute. We hoped to accomplish this by getting high school and college students to know how easy it is to show one's faith in Christ and to further His message of the gospel. Due to the nature of the assignment and the fact that we were college students carrying a full class load, three months was adequate time to put together materials and boost The Christ in Media Institute's social media presence on Facebook and Twitter. Had these tasks been given to someone who works in a public relations firm as a full-time job, this project likely would have taken less time — perhaps a couple of weeks.
We had an adequate response from people on social media. After the campaign ended on May 4th, Christ in Media had gained 17 followers throughout the month we ran this campaign which is a sizeable increase from the 247 that were there previously. Likewise, on Twitter the followership went up from 58 to 64, adding a few more followers there as well. I recommended that CMI should be more active on both of their social media accounts, to continue growing the number of likes and followers.
Overall there were 12 participants in the total event. A few more started but did not meet all of the requirements to be eligible for the sweepstakes to win the $25 gift card. While that wasn't a huge number, it was still nearly 5% of the followers on the two social media pages. Most participation seemed to happen as soon as we released the poster and posted on social media for the first time. After that beginning there was little to no participation.
Handing out the flyers in face to face communication seemed to work well. We had around half of our participation come from handing out these flyers to people and speaking with them a little bit about the campaign and CMI.
We firmly believed that the $25 gift card prize was necessary for this event, I don't think people would do something like this without an incentive of some sort. A bigger prize more than likely would not have made a difference, and likewise more opportunities to win than the single prize we offered would not have had much of an effect. Another idea we had after the sweepstakes for the gift card was maybe doing a challenge similar to that of the ALS ice bucket challenge from a few years ago. We could have done a prayer for the day and tagged three other friends to do the same things while tagging CMI in the post. This would have potentially alleviated the need for a prize.
This event could definitely had been spread to more schools. I think that if we had the time to do it we could have sent it to every WELS high school in the country. In retrospect it would have been nice to approach people at Martin Luther College and Bethany Lutheran College as well. A really solid way to do this would be to have a representative like Daniel and me at each of these schools who would distribute the information for an event like this. Just reaching out to each of these schools' administration to distribute posters and other print materials could go a long way.
What especially worked well was our poster. It neatly, creatively, and succinctly summarized CMI by emphasizing the simplicity of participating in our campaign. When sitting in the cafeteria with the posters around us, it definitely caught the eyes of students passing by. We handed out a great number of these, and those who picked them up certainly seemed excited to post their favorite Bible verse on either Facebook or Twitter. We also think the gift card worked well. $25 was not extreme nor unnecessary.
What may not have worked well was the use of hashtags on Facebook. On Twitter, it was simple to tag @CMIBLC; however, using hashtags on Facebook is difficult to accomplish on a mobile device. To use hashtags on Facebook, then, the user would have to either have access to a laptop or desktop computer, and this could affect further hashtag-based campaigns in the future. This is especially important to consider because hashtags are vital to tracking who is participating and it brings the campaign back to your page as well. If people are not able to find it or use it, it may affect perception of the organization or at least the effectiveness of a social media campaign.
I would recommend that CMI do this again, since the event gained them followers. Not every single campaign like #ShareTheSavior would need a monetary incentive, but to be engaged with fans and followers on social media is vital part of growing a company, especially one that is focused on media. Our recommendation would be to continue to do events like this and in general be more active on social media. We were thrilled that we gained more exposure with people who may see the need to spread the gospel through social media since it is such a powerful tool that should be used to advance God's kingdom.
[For additional details, see a PDF file of this slideshow.]
---
Translate this page into your language
Return to original language with "show original" button at top left.